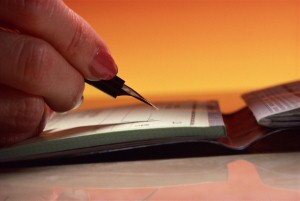 Here are 10 accounts payable best practices in no particular order.  Hopefully your A/P department can put a check beside each of these items.
1. Always pay from original invoices.  If you have to pay from a copy, be sure to check your records for the same invoice number and dollar amount.
2. Before paying any vendor, be sure there is a W-9 on file for them. This will save a lot of hassle at year-end when you need to prepare 1099s.  Fines for not complying with 1099 reporting requirements can be hefty.  Also, there is proposed legislation working its way through Congress and the Senate that would require businesses to issue 1099s for anyone paid over $600 INCLUDING corporations.  Be sure to watch this one — HR3408, The Taxpayer Responsibility, Accountability and Consistency Act of 2009.
3.  Ensure you have a policy about how invoice numbers are to be entered.  If you have a number of clerks all using their own rules about entering invoice numbers (like what to do with leading zeros), it will be difficult to track down anything.  Also, having a policy helps if there isn't an invoice number.
4.  The person entering the invoice should be different from the person approving the invoice who should be different from the person signing the check.
5.  Have all invoices come to the accounting department first before being sent out for approval(s).  This way the invoice can be logged before it enters the black hole.
6.   Do not enter invoices as a batch.  Each one should be entered individually in order to have an audit trail.
7.  All invoices should have the account coding written on them as well as any notes about special handling.
8.  The amount of the invoice should be entered as billed even if you don't plan on paying the full amount.  A credit memo can be entered and matched against the invoice later.  The key is to remember the audit trail.
9.  Have a new vendor welcome letter that you can send informing them of where invoices should be sent, what information you require to process their invoices (like a vendor ID number) and any forms you need completed.  Vendors will appreciate the information to ensure their payments aren't held up.
10.  Watch your payables carefully to take advantage of any discounts being offered by vendors.  It can add up to a nice sum by the end of the year.
Feel free to add your own accounts payable best practices below.