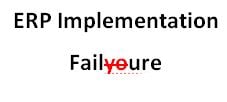 I understand it didn't have to be this way. After all, plenty of companies successfully implement ERP systems and, apparently, only a small fraction of ERP implementations are actual failures. For the benefit of others, here is what I learned from this experience:
Consider more options earlier
Define the expected benefits earlier and more clearly and then use as a compass going forward and a benchmark of success at the end.
Assume it will cost more and take longer. If it doesn't, you're a hero and if it does you're realistic.
Rigorously avoid project creep... the scope always expanding. Avoid unnecessary customization.
Take in more information from others without a vested interest who have been there and done that before spending any money.
Admit and move on from mistakes faster.
Have a good/committted in-house technology partner before proceeding.
Review the project on a regular basis and often.
Plan on more testing.
Plan on more staff education.
Delegate and verify more.
In fairness, I had varying degrees of responsibility for each of these items. But, in the end, the buck has to stop somewhere and I accept that. Of course, no one likes to lose a job.
The funny and fortunate part is, after learning a great deal from this experience, I was offered an assignment helping another company that is embarking on their own ERP implementation (amongst other things).
What would you put on your list?