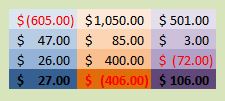 I have been asked several times over the last few months as I interview for jobs where preparing financial planning models is part of the job description whether I use macros in the models I have built.  Although I know how to use macros and even know how write macros using the visual basic editor I don't use macros in my excel bottoms up models.  I can't see how a macro would add any "significant value" to the model except for maybe a macro in a goal seek scenario.  I don't consider vba macros in excel that help with formatting, printing, etc as adding "significant value" to the model.  I've asked a couple friends who do financial planning as their primary jobs and they have also said that they don't use macros either. 
I'm not sure why these folks have been so concerned about whether I use macros when building a financial plan model in excel.  Maybe they are confusing features like vlookup or pivot tables as macros?
If anyone can help clarify or provide insight to this it would very helpful. My friends and I are anxious to learn if we are leaving valuable macros out of our financial plans.
Thanks!